Magnetic clip
HEADPHONE CLIP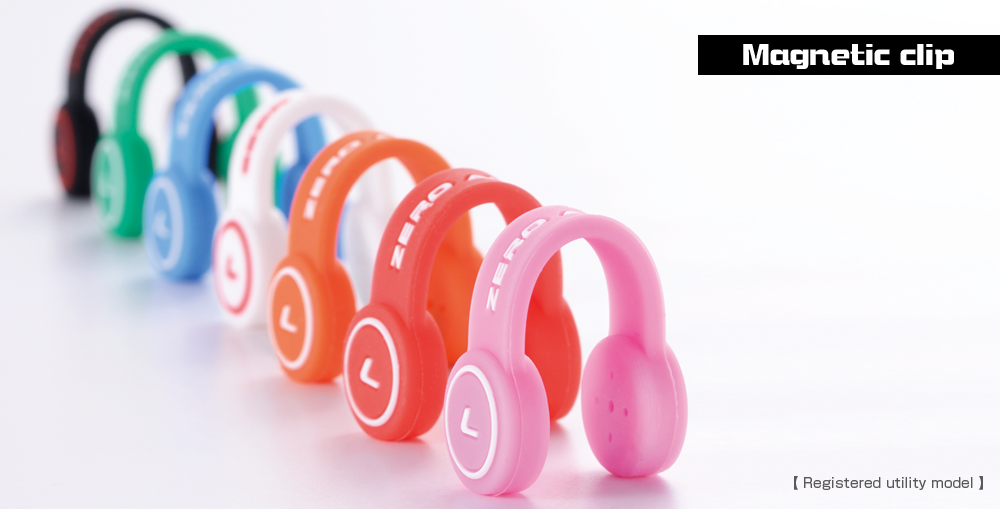 Avoiding tangled earphone cord with Strong Magnet Clip
Silicon molding magnet clip in the motif of overhead headphones. Bundling easily rolled up cords and clinging tightly to steel cabinet by two strong magnets and silicon band. Avoiding cord wobbling retention clip on shirt. Wealth of colors (9 colors, each 2-pack) spices up smartphone activities.
Wealthy 9 colors (each 2-pack)
WHITE
ZA-CLP-WR
4930393700316
RED
ZA-CLP-RW
4930393700323
BLUE
ZA-CLP-BW
4930393700330
GREEN
ZA-CLP-GW
4930393700347
ORANGE
ZA-CLP-OW
4930393700354
BLACK
ZA-CLP-KR
4930393700361
PINK
ZA-CLP-PW
4930393700378
BLACK / WHITE
ZA-CLP-KW
4930393700521
WHITE / BLACK
ZA-CLP-WK
4930393700538
Various ingenuities achieve various usages
Attracted tighty to Steel Furniture
As a cord length adjuster by winding control
Clipped on front placket avoids cord wobbling
Twirly
How to use
As indicated by this figure have a tight hold on one side of hand-rolled cord by the magnet clip. Check L & R magnets attracted to each other tightly before use.
This product is designed for standard inner ear headphones in order to clip the cord tightly considering its length and outer diameter. Adjust roll-up length of cord in use of thick, flat or long length cord for a tight attraction of L & R magnet.
【 Precautions for use 】※Read before use
●Please be careful when using this product, as the magnet may react and come off if a metal or other magnetic material comes close to it.
●When using a headphone clip by sandwiching a shirt bracket, etc., be careful not to pull the earphone cord strongly and come it off.
●The strong magnetic fields of this product can damage item such as credit cards, bank cards, floppy disk, computer monitors, computers and other data carriers, mechanical watches. Keep this product out of them.
●Pace-makers may be damaged in the presence of a strong magnetic force. Do not use this product if a pace-maker or other electrical body implant is in use.
●Keep magnets away from electronic devices such as Wireless equipment; if a strong magnet is placed close to an electronic device, it may affect its measuring gauge or circuit, resulting in a failure or accident.
●Children should not be allowed to handle this product as they can be dangerous. Small magnets pose a choking hazard and should never be swallowed or inserted into any part of the body. Keep this product out of children's reach.
●This product can result in aged deterioration gradually.
●The magnetic fields of this product may not maximize its ability in use of inappropriate cord that cannot fit this product size.
●This product is not be available for other purposes.
●Depending on the thickness and material of clothing, the magnet may not have sufficient strength.
●We neither assume nor accept any liability for accidents, troubles or direct/indirect damages resulting from the handing, use, loss or damage of this product.
●KYOWA HARMONET LTD. excludes all liability for loss of data, loss of profit, or any loss or damage suffered by you or any third party, whether those damages are direct, indirect, consequential, special, or incidental, as a result of using these products.

※This product is subject to change without notice.
※Graphical content may not present the actual color of this product.
<These contents are as of May, 2015.>