All aluminum body by a brilliant streamlined form with a depth of gloss
ZERO BASS-03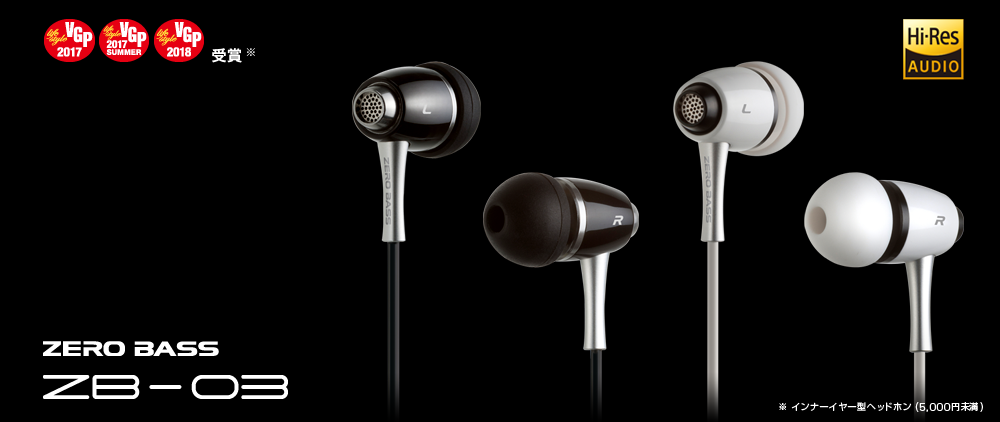 Hi-Res sound achieved by a brilliant streamlined form
ZB-03 is Hi-Res inner-ear stereo headphones with Machined All-Aluminum body highly qualified as a real genuine material.
Curved surface of the main body has a baking finish and an anodizing is treated on the front nozzle and the rear enclosure.
Smart punching metal being set on the rear-end of the body completes the special high-spec gadget with users' satisfaction by coexistence of a rich-deep brilliant style and an intentional tight-defined bass sound although Hi-Res sound quality is generally featured by treble sound.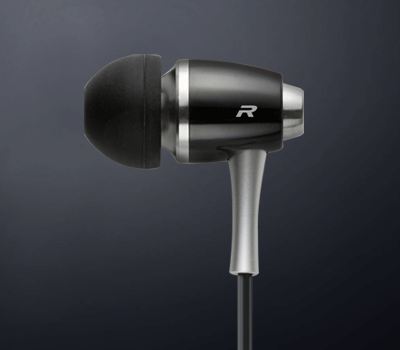 Full aluminum body
Machined All-Aluminum body which has a a good damping performance creates a premium feel with a deep brilliant shine of baking-finish sharpened from its sleek form.
Fine-tuned Driver
Lively and sensitive Hi-res sound source is reproduced thoroughly with a fidelity and a rich realistic sensation.
Bass boost port
With a smart punching metal is placed on the rear enclosure. It reproduces a powerfull and rich deep-bass sound.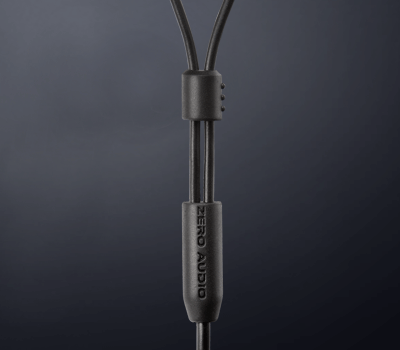 Cord slider with Three-point identification dots
The original cord slider with Three-point dots is attached on the product.
L : Left and R : Right logo marks are placed on each earphone body for a easy confirmation, and Three-point dots on the cord slider also help L/R recognition by fingers. Displacing the slider at the bottom of earphone bodies gives a comfortable identification of L/R by fingers before use.
Position adjustment of the slider moving up and down controls is effective to reduce rubbing or touching noise from the cable.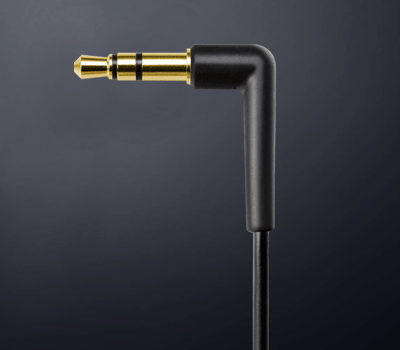 Clear transmission of a sound source through Flexible cable
High-purity OFC (Oxygen Free Copper) which is used for the cacle conductor prevents a degradation of sound minimizing a loss of signal transmission from a music player to the headphones. And the stereo mini plug has L angle shape which has a superior utility and durability.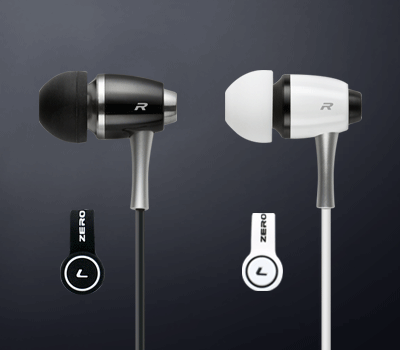 HEADPHONE CLIP as Standard accessory
Silicone magnet clip in the motif of Over the top headphones is attached as standard. Earphone cord can be bundled by the high powered magnets easily and clingged to steel furniture tightly. Black clip with white logo is attached as standard for ZB-03JB and White clip with black logo is for ZB-03SW.
Product Specifications
Type
Dynamic
Plug
3.5mm Gold-plated L-type stereo mini plug
Cord
OFC Cord 1.2m [ Y-type ]
Weight
4.5g ( without cord )
Sensitivity
104dB/1mW
Frequency Responce
6Hz〜40,000Hz
Maximum input
200mW ( IEC standard )
Impedance
16Ω
Accessories
HEADPHONE CLIP
Silicon earpiece : S・M・L ×2 ( M size is attached. )
Warranty period
1 year
Specifications and product appearance design are subject to change without prior notice due to continual improvements.
◇This product is available in ZERO AUDIO authorized sellers only.