Realizing playback frequency band up to 70,000Hz with Composite Housing.
CARBO DUOZA Ⅱ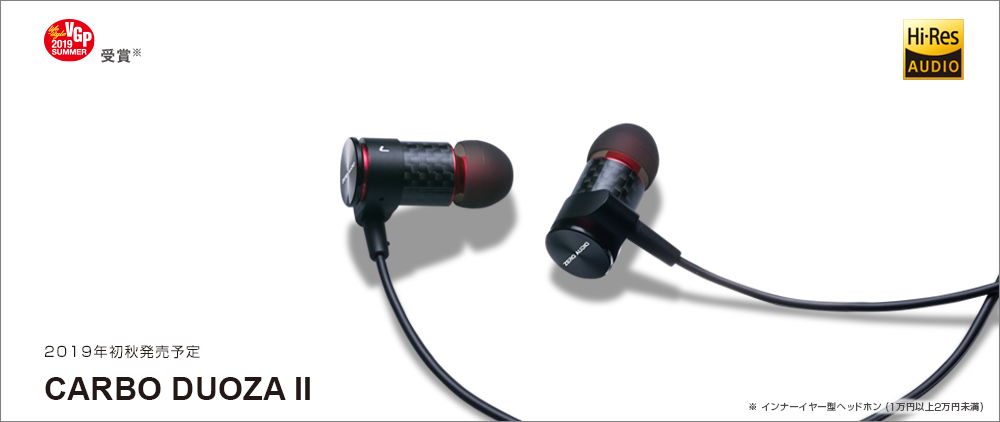 Dynamic drivers tandem-mounted in Real carbon housing.
CARBO DUOZA II is Dual dynamic type with a newly developed dynamic driver mounted on the front side in tandem. By adopting Composite Housing of real carbon fiber and machined aluminum, resonance vibration was suppressed and a reproduction frequency band up to 70,000Hz is realized.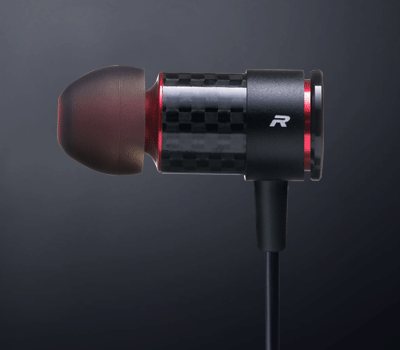 Composite housing
Composite reinforced body constructed with lightweight, high-strength carbon fiber that has excellent vibration damping, and machined aluminum suppress unwanted resonance vibration and maximize driver performance. The contrast between real carbon fiber with a beautiful plain weave pattern and ruby red alumite treatment on machined aluminum gives a sense of luxury.
Dual Dynamic Speaker
Dual dynamic type with two kinds of dynamic drivers in tandem mounted. With a newly developed front driver and Composite Housing, a playback frequency band of up to 70,000 Hz has been realized, and Hi-res sound sources are deeply reproduced from powerful deep bass to delicate high frequencies.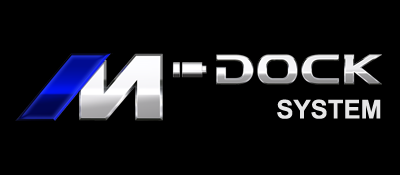 M-DOCK
Is a new concept Cable-Docking System developed by ZERO. The base component of this system is "M-DOCK cable" composed by OFC(oxygen free copper) Parallel cord which leads a small transmission loss and highly-reliable MMCX connectors*1 which are compliant with MIL Standard.
*1:ZERO's original spec produced by Japanese connector manufacturer considered among the country's best.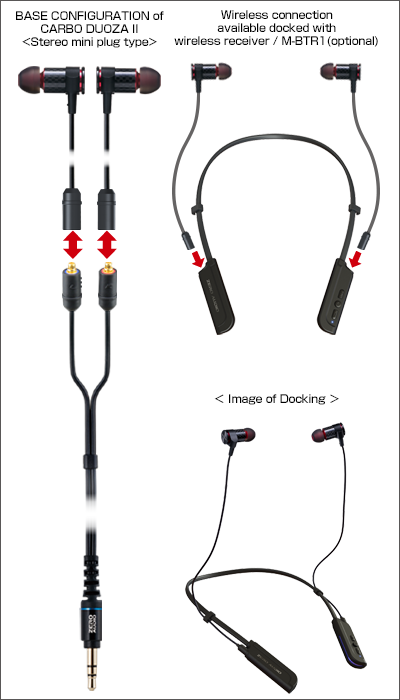 M-DOCK SYSTEM
Adoption of Newly designed straight type stereo mini plug supports smooth insertion and remove by engraved lines on Machined aluminum cover, and expresses a sense of premium quality by a decoration color of Cobalt blue as an accent.
To dock with the optional wireless receiver / M-BTR1(simultaneously released) enables Wireless connection and it evolves to a scalable systmen which has compatibilities with future line up.
In case of trouble or failure a relevant part can be identified and replaced easily.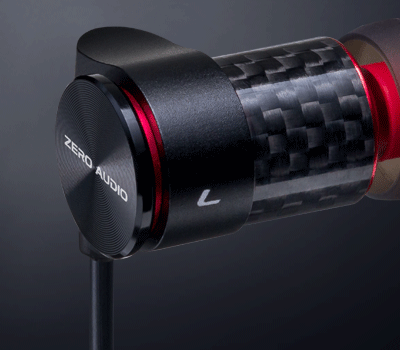 SSR Design ( Side Strain Relief )
SSR (Side-Stain-Relief) design achieves a comfortable fitting by its most suitable weight balance.
Newly designed straight plug
Engraved lines on the surface of machined aluminum plug cover supports smooth insertion and removal of the plug at output terminal.
Newly developed Parallel cord
Adoption of newly developed OFC(oxygen free copper) separated parallel cord enables transmission of a pure sound source with a small loss, and has both flexibility and durability.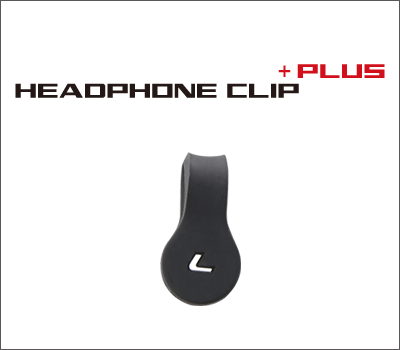 HEADPHONE CLIP PLUS
Is a newly developed and a little bigger than "Headphone Clip" on sale with good reviews now, and is a silicone magnet clip, the most suitable for M-DOCK SYSTEM in the motif of Over the top headphones.
Holding the mold parts of original connectors enables a quick retaining and releasing, and allows for reducing a noise by rubbing and touching.
Bundling the rolled-up earphone cords by silicone band and holding them by L&R headphone speaker shape with strong magnets facilitates an easy carrying around and stress-free keeping.
Product Specifications
Type
Dual Dynamic Speaker
Plug
3.5mm Gold-plated stereo mini plug straight type
Cable
M-DOCK cable / OFC parallel cord 1.2m [Y-type]
Weight
8.7g ( without cord )
Sensitivity
98dB/1mW
Frequency Responce
6Hz〜70,000Hz
Maximum input
150mW ( IEC standard )
Impedance
18Ω
Accessories
HEADPHONE CLIP・PLUS
Silicon earpiece : S・M・L ×2 ( M size is attached. )
Carrying Bag
Warranty period
1 year
Specifications and product appearance design are subject to change without prior notice due to continual improvements.
◇This product is available in ZERO AUDIO authorized sellers only.